by Suburban Homebuyers 12/23/2018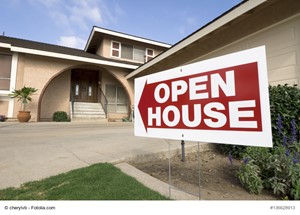 When you're selling your home, things can get really busy, really fast. You want your home to be in tip top shape to give it the best chance of selling in a timely manner. There are a few things you can do in a short time frame that allows you to spruce up your home without breaking a sweat. Below, you'll find some tips to help you bring your home to another level of wow before the open house.
Check Your Front Door
All you really need to do is put a fresh coat of paint on your front door to brighten the look of your entryway. There's something about a freshly painted front door that really makes a home look like new.
Spruce Up The Landscaping
You can really do a minimal amount in your yard and make your home curb-appeal ready. Just rake some leaves, add some mulch, mow the lawn, and voila. It might be an all day project, but in the end, it will be worth it. As long as people have a good view and feel that your yard has been taken care of, the outside of your home is in the clear for an open house.
Check The Outdoor Lights
Even though an open house will be happening in the daylight hours, people may be curious that there is adequate lighting on the outside of your home. Buyers can either check this while they are at the open house or they could go a step further and drive by the property at night. Adequate lighting allows for a sense of security and safety all throughout the outside of the property.
Care For The Mailbox
Few places in your home are as neglected as the mailbox is. Add some fresh paint to your mailbox. You can use the same color as your front door for consistency. At the very least, clean up the mailbox to give it a better appearance. Make sure your house number is present somewhere on the box as well. This helps the property to have a sense of being a bit more inviting. People will also be able to find your home easier.
Make Use Of Flowers
You should place flowers around your home on the day of the open house. Add a fresh cut bouquet to the kitchen table. Bring some potted plants and florals around your entryway. These simple touches really can make an impression when potential buyers visit your home.
Remove Your Personal Stuff
From the outside in, traces of your life in the home should be put away. This means pet items, toys, games, photos, and celebrity shrines. The more free space a buyer has to envision themselves living in the home, the better.
With these small extra touches, your open house is bound to be a success!
If you prefer to not hire a real estate agent, and don't want the added expense of repairs to get your home ready for sale, and would like to sell your home quickly, without open houses and strangers entering your home, give us a call, or send us an e-mail. We can answer any questions you may have, and offer you advise so you can decide what is your best approach in selling you home.